Today we tried two more beaches at a pleasant 24 degrees and at Punaluu I saw Seaturtles directly, live and in color.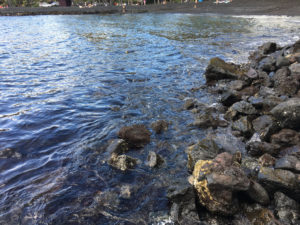 It is a dark-black sandy beach and underwater there are warm currents. We snorkeled with and next to them. It was just great. The turtles can move so easily in the water and they also swim right up to you.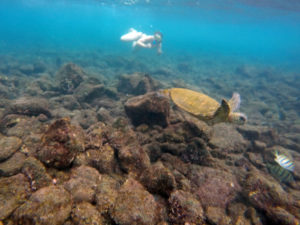 We then continued along the west coast through Kona to Harpuna Beach. This was the contrast to Black Sand Beach. White sand, very shallow, with picnic areatoilet and shower. (Harpuna Beach costs 5 dollars parking fee.) Snorkeling was rather boring there because only a few fish were to be seen. At Harpuna Beach you can have fun with the bodyboard. We watched the beautiful sunset and then drove back home. In the homestay we baked Belgian waffles and exchanged with two German women, new guests.
Silke