After breakfast we marched to the Collectivo. The minibus took us to Barranquilla and from the bus stop we took a cab to the airport. There we had to wait a while until we could check in. The airport is currently more of a provisional tent and container, because the actual building is probably being renovated, but the Dunkin Donuts had tables, chairs and delicious coffee. With Wingo Airline we flew to San Andres.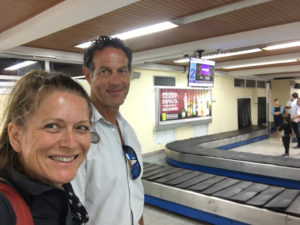 Our backpacks arrived too!
From the airport a cab driver picked us up. Approx 20 min drive to San Luis. Miss Margarita welcomed us very warmly, although it was already 22:00 o'clock. She showed us everything in the small apartment we rented here. She speaks only Spanish and so we talked with hands and feet and Google translator.
Silke