We were drawn underwater again. We booked a boat tour with our neighbor France. During the tour, which lasted several hours, we went to different snorkeling spots. The visibility under water is really amazing in this crystal clear water. Manta rays, starfish and of course lots of fish. Mangroves and the "acuario san andres islas" were also on the list.
Several ships look like shipwrecks here, but the one at the end of our trip was clearly one. France had asked another tour guest from Austria and me to climb up, pretty ramshackle wreck. The path was full of holes and there were only ladder remains to get to the top. In Europe such a thing is unthinkable. After we got back we all went to the beach bar for a while.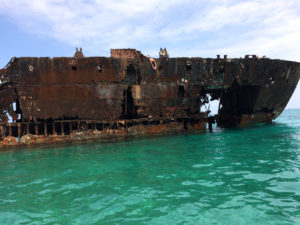 In the afternoon, we took a bus and headed to the other side of the island. In the end it all worked out fine. Silke got a little bit of sun today and went to sleep quickly.
Reiner