We had a very good breakfast in our hotel and started walking to the Sugar Loaf at 11:45 am. It was about 7 km of walking and hiking from the hotel to the middle station Morro da Urca. You can take the cable car the whole way or the second half from the middle station. The way was very nice to walk. From the bottom station we took about 1 h with many photo stops. Shortly before the middle station Morro da Urca we met some cute dwarf marmosets. The little ones measured about 15 cm – 20 cm plus tail. The white puffs on the ear and curled tails are cute and the monkeys are very curious. Reiner's walking stick was explored extensively! And there were a few peanuts on top. Feeding is strictly forbidden though!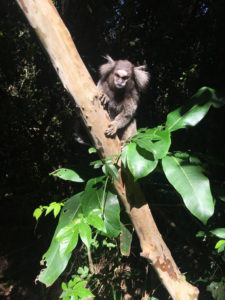 The cable car shuttles up and down. The cabin can fit about 25 people at a time…. The view of Rio de Janeiro, Copacabana, and the surrounding islands and mountains is magnificent. Christi was hiding behind a cloud though.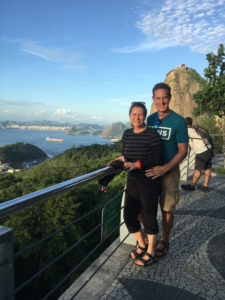 On top of Sugarloaf Mountain, a large dark gray and black vulture-like bird was perched in the tree. After 1.5 h on the top of the famous rock, we went back down to the middle station and then descended and walked back "home". Back at the hotel, we ate the salad and bread we bought on the way in front of our open window, and enjoyed the view.
Silke