Since we had nice weather with good visibility today, after breakfast we took an Uber – cab to the bottom station of the "Trem do Corcovado" train to the Cristo statue. We were there at 9:30 and the next possible tickets would have been for 17:00! On the spur of the moment, we bought tickets from the "black market" offered in front of the station. They were a bit more expensive, but for 11:20. With the rack railroad we went to the 710 m high mountain Corcovado to Christ the Redeemer, which welcomed us in bright sunshine and 34 degrees. On the way to the top, a yellow-breasted capuchin monkey did some gymnastic exercises in the trees along the way.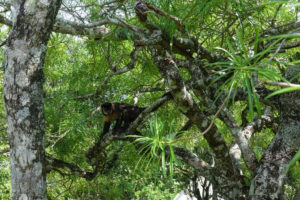 After taking extensive photos and enjoying the view, we had another cool drink on the terrace of the restaurant and then we went back down by train.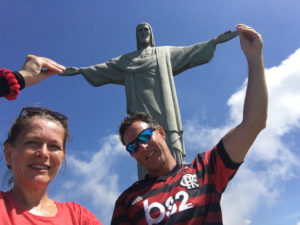 In the meantime, it covered with clouds, so you could see the Cristo merge with the sky. By Uber we went back to the hotel. Right after that we went to the sea with only bathing suit and towel. The red flag was still fluttering, but the waves were not so high today, we ventured in up to our bellies. In the evening there was again delicious salad and the box seat at our window. ( Uber 2 x 16 Reals, Trem tickets 130 Reals pP instead of 79 pP).
Silke