After a short night we went to the Halali waterhole "Moringa" again this morning. It was not as spectacular as last night. "Only" a Marabou stork, a Kudu, ducks and guinea fowl. We then continued through Etosha National Park to Camp Namutoni a former German fort. There many zebra mongooses made the area unsafe. Totally cute!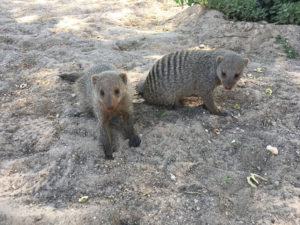 Herds of zebras, blue wildebeests, giraffes, elephants, warthogs, springboks and the big bird "giant bustard" were spotted.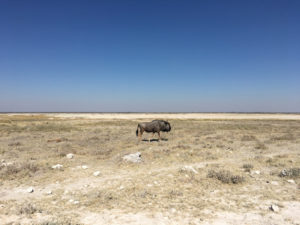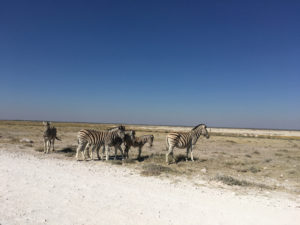 At the Kalkheuwel waterhole (artificial), zebras literally jostled for the best spot with springboks and warthogs. Out to the eastern Lindquist Gate we turned immediately left into Onguma Tamboti Camp. Here we have a new "campsite" today. In the evening we went for dinner. The restaurant offers a view of an in-house waterhole. A few giraffes, antelopes and ducks did the honors. I had a pizza and Reiner an oryx steak..
Silke