We started shortly after 8:00 am in Wadi Musa and drove to the Wadi Rum Restcamp. There we parked our car and then waited a while for two other fellow travelers from Latvia. When Johannes and Evita arrived at 10:45 am, the desert tour started. The slightly older Toyota, with an open, shaded cargo area converted to seating, drove us to several viewpoints in Wadi Rum.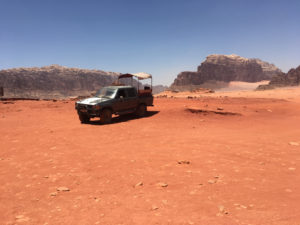 We visited the source of Lawrence of Arabia and the house in which he rested with his caravan. We could climb up a red dune and enjoy the great view there. In several Bedouin camps we had a cup of sweet peppermint tea. For lunch, our driver prepared a meal of pita bread, bean stew, eggplant puree, cream cheese and tuna. We drove to a gorge that we walked through and to two natural stone bridges that you could also climb up. Many camels were happy to serve as photo models.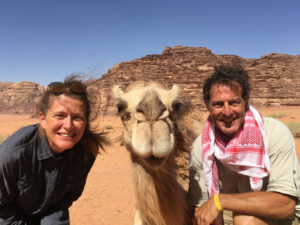 In the evening we had smoked chicken with vegetables, rice, bean stew and salad in a hole in the ground. Bedouin tea a campfire with moonlight and starry sky rounded off the beautiful day. We slept in permanent Bedouin tents with two beds each. Two brick wash houses with running water provided additional comfort.
Silke