Today we were on the road together again, because my "sunstroke" has finally disappeared. We went by bus once around the whole island about 30 km. Per bus ride are 2600 Peso pP. ( 0,80 EUR). We visited two great snorkeling spots. First we were at West View, which is a swimming hole on the west coast. Ladders, a diving board and a slide lead over the lava rock coast into the sea. At the entrance you get white bread to feed the fish and there were really a lot of fish eating right out of your hand. In about 8-10 m depth a statue of Neptune has been sunk. There diving (running) the "Aquanautas Helmet Diving" – divers with your full head masks and air hoses . This looks very much like Martian.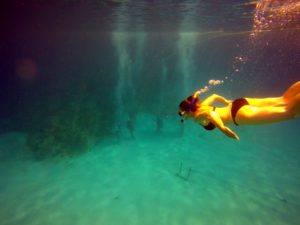 Reiner also dived to Neptune without a hose. After that we went on by bus to Rocky Cay. This is a beach where you can almost walk to an island. Behind it is the big wreck that Reiner jumped off of 2 days ago.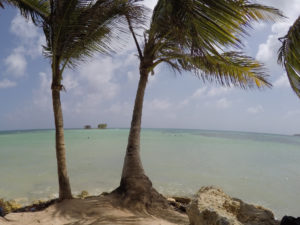 We also swam over and had some fish food with us. Whole schools of colorful fish stirred up the water around us.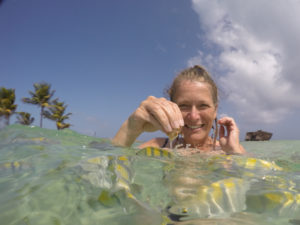 In the evening we cooked rice-vegetable pan with egg and printed our plane ticket.
Silke