Bogota is a colorful (many artistic graffiti) lively city. Many policemen and security personnel provide for a safe feeling. Nevertheless, we have heard of robberies of tourists and therefore avoid dark lonely alleys if possible. We ventured high up today on the cable car to the Santuario de Monserrate. A great view of the city and a beautiful church. Then we marched on foot the good 2000 m back down the stairs. In super weather this was fun. At the bottom we drank Colombian coffee. Then we went again to the Candelaria quarter.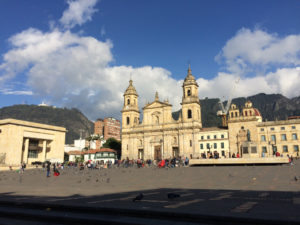 We briefly visited the Catedral Primada de Bogota and then walked back toward the hotel.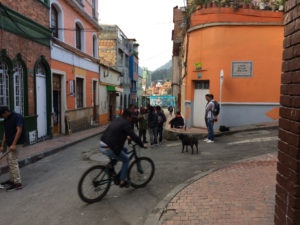 In the evening we had dinner at El Cato Gris. The food, Reiner -Rippchen/Silke-Küchlein with plantain, did not convince us so much, but the ambience with LiveBand and great roof terrace was very nice.
Silke