Today we made a day out and explored Bohol. Ela and Marco from Switzerland accompanied us. Reiner and Juana, our hosts, organized the tour and drove us. First we looked at the Blood Compact Monument and the Baclayon Church in Tagbilaran. Then we sped on the Loboc with a boat (approx. 60-80 guests) to a small waterfall and back again. On the boat there was a buffet and live music. After that we looked at the Chocolate Hills at Carmen. There is a viewpoint, which can be easily reached by stairs. Shortly before it had rained, so it looked like the hills were steaming!
The hills are of natural origin and covered with grass. In the dry season, they sometimes take on a brown color, hence the name.
Then a butterfly farm near Bilar was our destination. In the café there we had a coffee and ate an ice cream. At Quinoguitan there was a bamboo suspension bridge over which we walked. Shortly before 4, just before the closing time, we visited the Tarsier Wildlife Sanctuary Station near Corella. There, the small monkeys are kept under as natural conditions as possible. The Tarsiers enter into cages. You are guided in small groups and with a guide through the large complex and asked to be as calm as possible. The guides know where the nocturnal little goblins have their sleeping places and we would certainly not have discovered them otherwise. They are about the size of a men's fist, feed mostly on insects and can jump 3 m. Totally cuddly!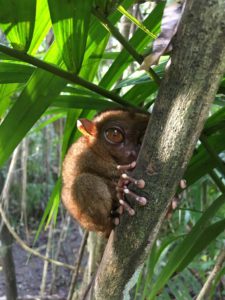 Finally we were again delicious to eat at NAT and Henry's.
Silke